Expenses Management
Looking for a better way to manage your expenses? Check out our expenses management tool and keep track of all your expenses in one place, upload receipts, approve, validate, pay expenses easily and more!
Manage your team expenses effortlessly
Keeping track of and managing your employees' expenses has never been easier! This easy-to-use expense management tool makes it easy to track and manage all of your team's expenses in one place, so you can monitor it, survey it, and control it with ease.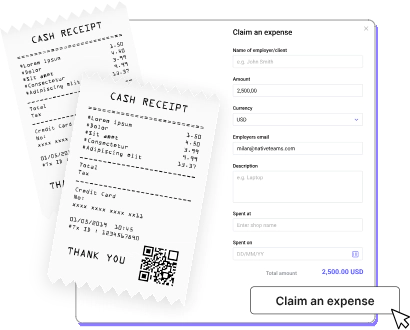 Claim expenses and upload receipts
There is no need to worry about losing receipts or forgetting to include them in your expense report any more. Our Expenses Management tool is designed to make claiming expenses and uploading receipts easy and straightforward. The process is simple; you can add as many expense receipts as you like, and the tool will track them all!
Approve, validate and pay expenses easily
Expenses Management is a simple, easy-to-use tool that helps employers quickly approve, validate, and pay expenses. This tool is easy to navigate and comes with various features to make the expense management process easier.
As an employer, you can either pay the employee through their virtual wallet or include the cost in their base pay. If it's deposited straight into a bank account, the employer is responsible for paying any associated withdrawal fees.
Reporting and compliance
Use our interface to select business vs. personal expenses for record keeping and tax compliance, be able to collect and track data and generate reports quickly.
We've designed our tool to be user-friendly and intuitive, so you'll be able to get up and running quickly. Users can obtain tax reports in PDF format, which can be used to record expenses the user incurred throughout the tax year to the appropriate taxing authorities.
Benefits of using expense management in Native Teams
Want to learn more about our services or need help getting started?
Book a demo