Global Payroll Services
Instantly hire and pay your team globally through our payroll processing system. Our payroll solutions fit any company with any number of international employees. With legal entities in 55+ countries, we are committed to ensuring that your new talent is employed, paid, and managed correctly, with all the mandatory contributions and employee benefits, fully compliant.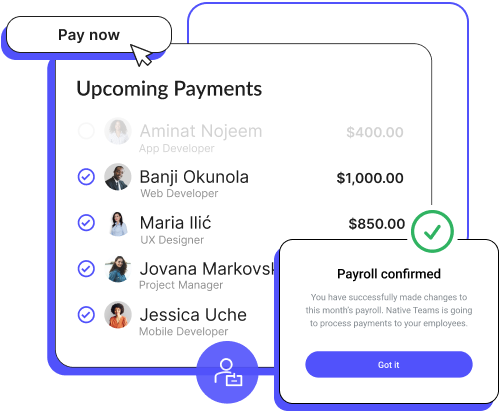 What are Native Teams global payroll services?
Managing global teams can be complex, but paying them shouldn't be. With Native Teams, you can combine salary calculators, payroll, expenses, taxes and benefits within one platform. That way, you can easily and compliantly pay your international team.
We have local legal entities in 55+ countries around the world, so we can simplify your payroll across multiple markets when you decide to expand globally. We process taxes, social and other contributions while being fully compliant.
Read more about our employer of record services HERE.
Local Employment
Personal IBAN
ATM Card
Client Invoicing
How does global payroll services work?
Get your global team on an automated payroll processing system and pay them in a blink no matter where they are. Add them to the system, we take care of the rest. We have placed a distinct emphasis on flexibility of provision to help you succeed in the best possible way. We manage every aspect of our service and platform delivery end-to-end.
Create account
Add/Invite employees to payroll
Select employee
Add employment information
Select allowances
*optional step
Add bonuses
*optional step
Upload contract
Upload additional documents
We do the calculations and salary breakdown
Payroll service
You get all the calculations and breakdowns to process the payroll.
Are you seeking an
employer of record services

for your team while also running payroll?

We provide the ideal solution to meet your work payments and employment requirements.
Why choose Native Teams global payroll services?
Don't let paperwork and compliance slow you down. With Native Teams payroll, you'll have the confidence that your business is always compliant with the right forms, laws and regulations. Get rid of the hassle of managing payroll and enjoy a stress-free solution.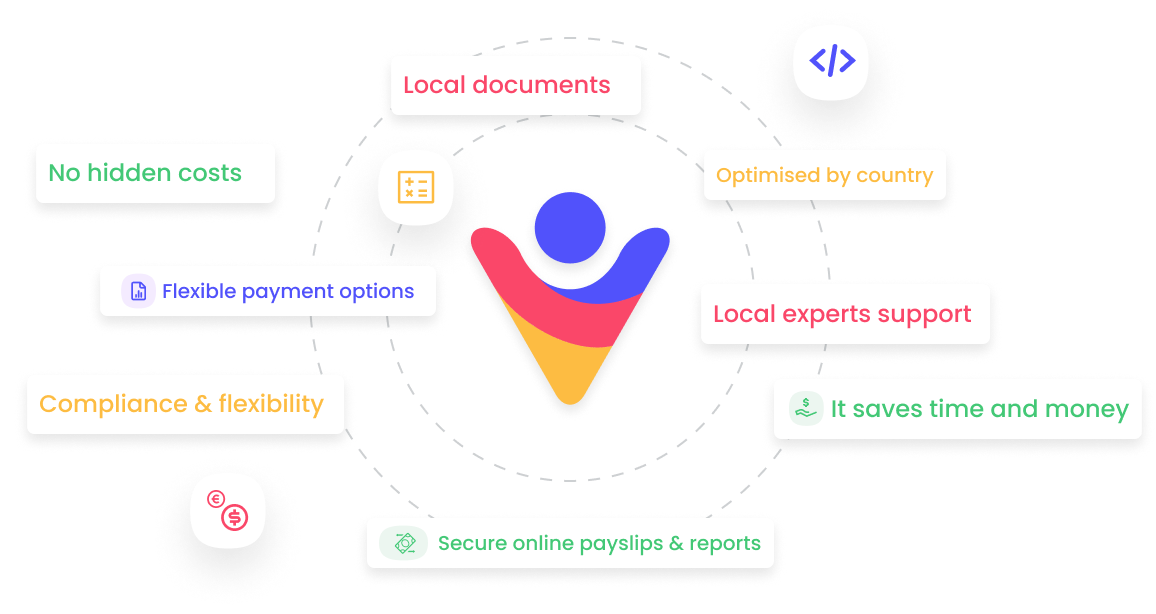 Features of Native Teams global payroll services
We combine the best payment tools, local employment provision, tax management and employee benefits to create a complementary suite of functionality to empower you to grow globally with full compliance and flexibility.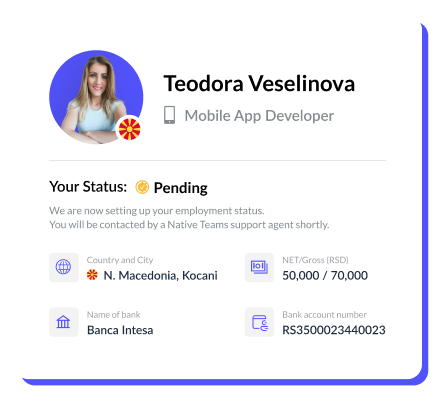 Proper employment
Your team members will be properly and compliantly employed in their own country through our employer of record services. No more figuring out how the local tax systems work or how much contributions should you pay.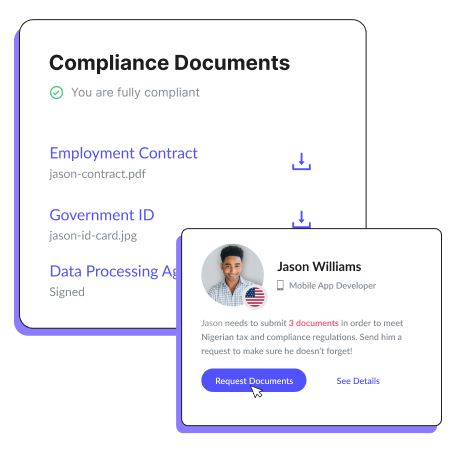 Compliant contracts & documents
Forget about trying to figure out all the local regulations and translating all the necessary documents. With Native Teams, you'll get an automatic onboarding, and we'll provide you with the right employment documents, localised and customised per your requirements.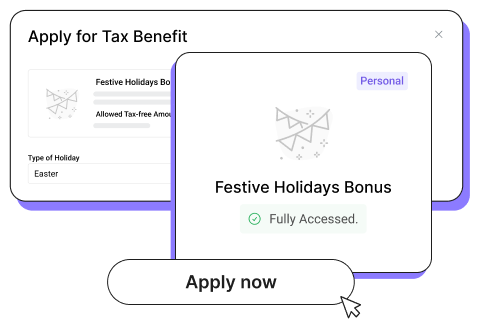 Mandatory tax, contributions & benefits
When you hire and pay your team through our employer of record services, we will make sure that all your employees' taxes and mandatory fees or contributions are paid to the local government.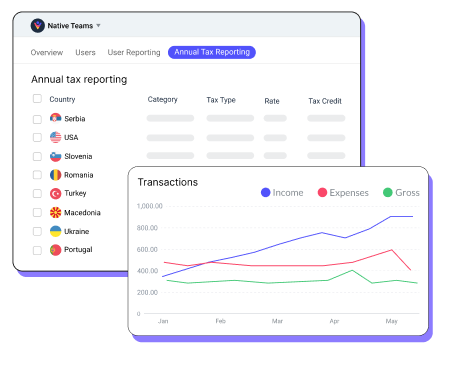 Tax management
With our tax management solutions we help your business comply with taxation laws and regulations. Tax management aims to optimise the owed tax amount, take advantage of allowances, VAT claiming and deductions. We provide documentation for full tax compliance, both for you as the employer, and your team.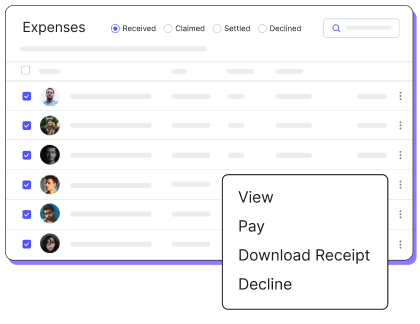 Expenses management
Keeping track of and managing your employees' expenses has never been easier! This easy-to-use expense management tool makes it easy to track and manage all of your team's expenses in one place, so you can monitor it, survey it, and control it with ease.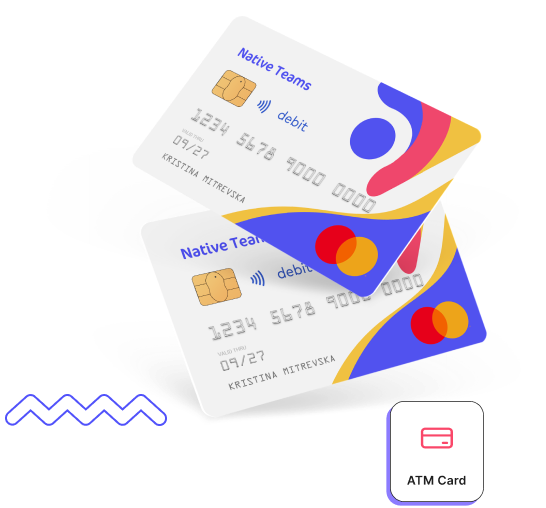 Native Teams expense card
We provide your employees with a Native Teams expense card so that they can access their money without any limitations. The expense cards can be used at any merchant that accepts Visa or Mastercard payments, offering employees a quick and secure way to pay for company expenditures.
Frequently asked questions (FAQ)
Want to learn more about our solutions or need help getting started?